Field:
Flexible media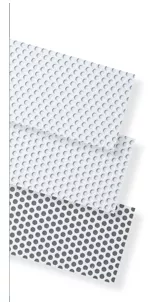 One-Way Vision
Cgate's One-Way Vision, also referred to as Window Film, is a self-adhesive see-through perforated PVC film. The film usually has a design or colour on one side that is not visible from the other side. The perforations provide a clear, tinted view through the sheet. The design or colour can be applied by printing with most digital printers using solvent, eco-solvent Latex or UV inks.
There are many benefits to Cgate One-Way Vision, such as:
Privacy and security
Choice of vision – see the design or see through the sheet
Reduction of solar heat gain
Safety of being able to see through the design on glass
Safety of identifying location of glass
Protection of glass atgainst shattering
Manufactured under Patent license.
Approved for vehicle applications by the German and Spanish Ministry of Transportation.
Cgate self-adhesive One-Way Vision can be applied to buildings glass, shop windows partitions or vehicles.
Product Sheet
Material Safety Data Sheet