Field: Rigid media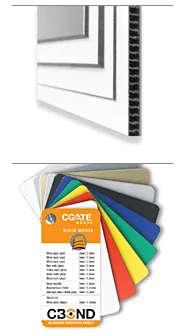 Cbond Aluminum Composit Panels
CBOND Aluminum Composite Panels (ACP) are a lightweight product made of two layers of painted aluminum with a solid polyethylene core. Designed primarily for either short or long-term outdoor use, they are weather and rust-resistant. Aluminum Composite panels are quite flexible and can be shaped or curved. The coated surface can be printed on directly using digital flat-bed printers and the panels can be supplied in a wide range of colors and finishes including brushed metallic and mirror. Special colors with accurate matching can be supplied upon request.
Standard ACP sheets are coated with a PE based finish.
Construction grade ACP sheets have a special PVDF finish for longer durability.
CBOND TRAFFIC aluminum composite panels have been optimized for road and motorway signs. Cbond Traffic panels Road signs have been installed on roads and motorways since 2006. We were the first company to pioneer the use of special grade road and motorway signs using aluminum composite panels.
Cgate is the first supplier of traffic grade sheets which have passed all the safety and assembly approval tests required by motorway authorities for road signs in several European countries. We are complying with EN 12899 and successfully passed additional mechanical and aging tests to approve this products performance and demands.
Typical applications include signs for:
Car dealerships
Real estate
Direction Signage
Car parks
Service
Restaurants
Exhibition stands
Directional and informational
Hoarding
Industrial cladding
Project signs
Traffic signs
CBOND ACP PRODUCT SHEET
CBOND TRAFFIC PRODUCT SHEET
Material Safety Data Sheet
Routing and Folding Technique
Cbond cutting and bending instructions
Cbond Joining method
Cbond cutting instructions
Cgate Tech Guide
Cgate Unloading Instructions